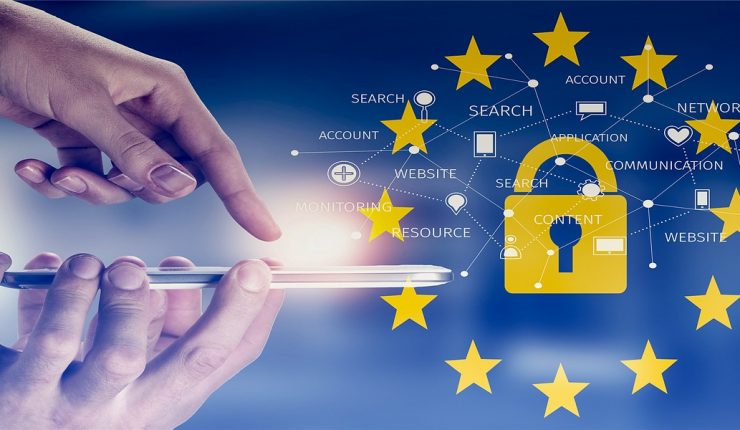 10 Steps to stay secure in digital world
As you're already aware, Cybercrime is increasing day by day and has become a multi-billion industry. Cyber attacks come in various forms and are designed to not only target technological weaknesses but also exploit people. So it's essential to take steps and beware, take preventive steps to stay secure in the digital world, Here's the best compilation of 10 steps to stay secure in the digital world.
This post is part of Regain your Privacy series, for other posts check out here, here & here.
#1. Use DuckDuckGo search instead of Google Search
DuckDuckGo is the search engine that doesn't track you. It doesn't store your personal information neither the search history is stored therefore they have nothing to sell to advertisers that track you across the internet. Private Browsing mode is also available.
Key Features :
Escape Advertising Tracker Networks — DuckDuckGo's Privacy Protection will block all the hidden trackers it can find, exposing the major advertising networks tracking you over time, so that you can track who's trying to track you.
Increased Encryption Protection — DuckDuckGo force sites to use an encrypted connection where available, protecting your data from prying eyes, like ISPs.
Search Privately — You share your most personal information with your search engine, like your financial, medical, and political questions. What you search for is your own business, which is why DuckDuckGo search doesn't track you. Ever.
Privacy Grade rating – DuckDuckGo Privacy Browser shows you a Privacy Grade rating when you visit a website. This rating lets you see how protected you are at a glance. The Privacy Grade is scored automatically based on the prevalence of hidden tracker networks, encryption availability, and website privacy practices.
If you still want to use Google Search then you can consider turning off your Google Search Tracking and Location history by below steps
Login to the Google Ads Settings page and turn off 'Ads Personalization'. This setting applies across all of your signed-in devices and across all Google services.

Image – Turn off Google Ads Personalisation

From Google MyActivity Tool, you can Turn off Location History. Please note this setting saves where you go with your devices to give you personalized maps, recommendations based on places that you've visited. On the same page, you can consider switching off YouTube search, watch history.

Image – Turn off Google Location History

The next item on our list would be Shared Endorsements, you can visit this page to disable based on your choice. Shared endorsements are basically Google recommends certain products from others. This works based upon your activity, Google may show your profile name, profile photo, and activity in shared endorsements that appear in ads.
#2. Turn off Location Data
In Windows 10, all you have to do is head over to the privacy settings and turn it off. The following steps should get you started.
Start the Settings app, and hit the Privacy sub-module.
Under the Location sub-setting, turn the toggle marked with the word "location" to Off. Here's a screenshot:

Image – Turn off Windows 10 Location
You can turn location mode on or off for your Android device. As explained in the earlier section, You can turn off Location History from Activity Controls. With Location History off, the places you go are no longer stored. When you turn off Location History for your Google Account, it's off for all devices associated with that Google Account.
#3. Turn "Do Not Track"
By default, when you browse the web on computers or Android devices, websites track your browsing data. Instead, you can send a request to websites not to collect."Do Not Track" option is in your browser, it's turned off by default.
However, this setting would be effective based on how a website responds to the request. Many websites will still collect and use your browsing data.
In Chrome, you can enable "Do Not Track" by below steps :
On your browser, visit chrome://settings to open Settings Page/Dialog
At the bottom, click Show advanced settings.
Under "Privacy," check, Send a "Do Not Track" request with your browsing traffic.
#4.Force sites to use HTTPS
For Google Chrome, consider using the HTTPS Everywhere plugin, it changes thousands of sites to HTTPS from the non-secure HTTP. So, it can protect from a lot of threats such as privacy hijacking, frauds, and some kinds of surveillance that are present, almost everywhere.
If you're concerned about online privacy, you should definitely check out our Chrome recommended extensions.
#5.Use Incognito Mode
With Incognito Mode, Google Chrome doesn't remember your activity, you can browse the web privately. This ensures that your browsing history, cookies, and site data, or information entered in forms are not stored. Use Ctrl + Shift + n to open a new incognito window.
#6. Use Adblock Plugins
Use Adblock Plus or similar plugins, it can clean web pages, by removing advertisements from sidebars and everywhere else. The free plugin can block various kinds of ads, such as animated ads, pop-ups & pop-unders, Facebook ads, etc. Also, there is an impressive level of protection from tracking and malware.
#7. Use Secure Messaging App
Use apps like Signal, this is a free & Open Source project. There are no ads, no affiliate marketers, no creepy tracking. Signal messages and calls are always end-to-end encrypted to keep your communication safe. On top of it, you send messages that you can set to disappear.
#8.Unsubscribe/delete from old accounts you have signed up
Use Deseat.me like service to find out what you have signed up and either you can delete or unsubscribe from them. It lets you see all of the websites you're signed up to or have accounted for and asks if you'd like to delete them or unsubscribe. It asks for your email address and password so it can scan for the sites you're signed up to.
#9.Use Disposable email address
Disposable email addresses help to protect you from spam mails and could be useful when subscribing to forums or newsletters. You can look at the BEST Chrome extensions for creating disposable email addresses here.
Spam messages currently account for 59.56 percent of e-mail traffic worldwide. If you're looking for the BEST disposable email services, it's here.
#10. Use Secure VPN
VPN provides you with a secure and private connection, it keeps your IP address private from websites, hackers, and advertisers. Additionally, some VPN services provide you with AES 256-bit encryption or more that shield your personal information from prying third parties and hackers on public WiFi, ISPs, and other local networks.
TunnelBear VPN is one of the easy-to-use VPN. It secures your internet connection through an encrypted tunnel to locations around the world. TunnelBear can be used to protect you and your privacy, hide your real IP address, bypass internet censorship, and experience the internet as people in other countries experience it. You can tunnel with your private TunnelBear VPN from just about anywhere in the world, as long as you are connected to the internet. You can tunnel to any of our 20+ server locations.
TunnelBear allows unpaid users to use 500MB per month. Your data will renew monthly on the same day you last signed in or signed up. Data that is not used in the previous month does not roll over to the next month. You can also search for Bright Data to know about it's security service.
NordVPN boasts an admirable combination of fast speed, strong security, and affordable pricing. It uses the OpenVPN protocol and AES 256-bit encryption with 5721 servers, a strict no-logs policy, and 24/7 customer service.
You can also use Opera browser which has an inbuilt free, unlimited VPN service.To activate the free VPN for the first time, enable it in Menu -> Settings -> Privacy -> VPN.Opera's VPN can also be used in a private browsing window.
I hope this compilation of 10 Steps helps you to stay secure. Please feel free to comment, if you've any better techniques etc.,
Like this post? Don't forget to share it!
Summary
Article Name
10 steps to stay secure in digital world
Description
Cyber attacks comes in various forms and are designed to not only target technological weaknesses, but also exploit people.Here's best compilation of 10 steps to stay secure in digital world.
Author
Publisher Name
Publisher Logo