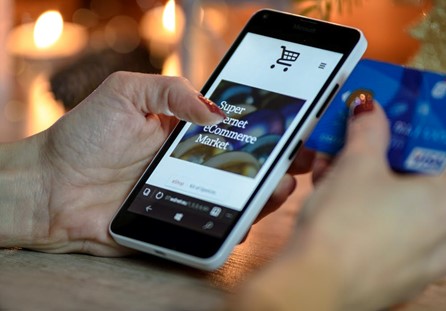 The requirement of Ecommerce apps are increasing in coronavirus pandemic
Requirements of Ecommerce apps during Coronavirus Pandemic time
A Government has declared lockdown, quarantine measures, and social distancing during the covid pandemic time. After that organization, offices, schools, workplace, universities work become some tedious during coronavirus Pandemic time and the employee loses their jobs. For solving problems during work or giving services to the client's more mobile apps have been developed by IT(Infrastructure) Companies.
Many starts up companies also developed some eCommerce apps for more increasing the growth of their organization and businesses in coronavirus pandemic time.
During and after pandemic time people are more alert about keeping social distracting and think before going outside from home. After that e-commerce app usage is increased and more features updated. The older generation also buying products through online shopping apps attract towards a digital platform.
Businesses fetching more difficulties during Covid-19 pandemic time. But after more use of e-commerce apps and making more related apps it is very simple to develop businesses during covid 19 pandemic duration.
Scaling Ecommerce app necessary
When you work with an e-commerce app it is necessary to scale up e-commerce apps periodically. By Scaling an e-commerce app you can understand user requirements properly and you can solve the problems in the app. You can tell that problems to the app developer and increase features of the app to work perfectly.
Safety First
In the Coronavirus pandemic time employees need to be secure by wearing a face mask, sanitize hands, keeping social distances, thermal screening, etc. Secure from all these things remote work is more important.
By developing e-commerce apps employees do not need to go to offices in this pandemic time. In that way, the requirement of e-commerce apps is more important in coronavirus pandemic time.
Mobile apps are more reliable and useful than websites. The use of mobile apps also increased during the covid -19 pandemic time. These apps are like below:
E-commerce apps
Payment apps
Video calling apps
Learning apps
Chatting apps
Health-related apps
Tips for e-commerce apps to stay stable during this pandemic time period and to grow businesses
#1. Make use of social media
During Coronavirus pandemic lockdown time people are staying at home and use social media Facebook, Instagram, and YouTube are 50% more used.
In the difficulties of the coronavirus pandemic, you can integrate your store with a social media channel. It can improve business growth.
#2.Interact with loyal customers
It is the perfect time to build good relations with customers. It is necessary to send thanking emails or messages to customers and ask about to give feedback or review products or services. Without hesitation say customer support in a way of buying products or services.
#3. Send engaging messages
Your Business promotion also depends upon how your message is delivered to the customers. You can send a message with unique content without showing pandemic words more times. It's more beneficial to grow your Business.
#4.Smart investment
Use the coronavirus pandemic time to smartly invest money in making e-commerce mobile applications. By investing money digitally it can much useful to grow a business.
List of e-commerce app with their usage in coronavirus pandemic time:
#1.E-Bay
E-Bay is one of the best e-commerce applications. Users can buy or sell all over the world. It includes price comparison, guest checks out and linking of PayPal account with eBay accounts for quicker transactions.
#2.Grofers
Grofers is a popular mobile app designed with photographs and proper navigation. It is useful for delivering groceries to customers.
#3.Paytm
Paytm is the best app for e-commerce transactions in India. Paytm transactions include recharge of mobile Bills, Electricity Bills, Ticket booking of buses and metros.
#4.Amazon
Amazon is the most useful app all over the world. It allows searching for products.
#5.Uber
Uber is the best cab services app. By using GPS technology drivers and riders can connect after completion of rides driver and the passenger gets to rate each other.
#6.Walmart
Walmart app is also the best shopping app. It includes code scanning, typing barcode, and real-time price calculation.
Necessary features for e-commerce app
#1.Push notification
Push notification is the main feature of e-commerce apps. It shows new promotions, new product launches, and special offers.
#2. Simple registration and instant login securely
Most of the users do not like the long registration process. Amazon's world e-commerce app has a simple login and registration process.
#3.Analytics
Understanding user behavior can add features into the app is mainly important. Consumer behavior, click-through rate, session time, and cost of conversion are important information to make the app more useful.
#4.Provide unique and appropriate content
The consumer doesn't like more lengthy content. Relevant and unique content attracts customers to the app.
Conclusion
 If your businesses are slow now during the coronavirus pandemic time. Don't take too much tension it's time to increase the growth of your organization or business. By developing e-commerce apps you can aware of actual and unique work to the customers. Employees can also give productive work by remote work using an e-commerce app no need to go to offices or to stop work.
Don't need to wait for the opening of lockdown or stop Coronavirus pandemic time. Organizations, Schools, or Companies can continue their work remotely. Safety precaution and staying at home comfortably can increase the growth of the business.
Author Bio:
Mayank Dudhatra is CEO and Co-Founder at Skywave Info Solutions. He has more than 8 years of experience in business management. Also, he has expertise in WordPress, Php development, mobile development company including Android and iOS apps. Under his guidance, the Skywave team developed many apps on Android and iOS platforms.
Summary
Article Name
The requirement of Ecommerce apps are increasing in coronavirus Pandemic
Description
Businesses fetching more difficulties during Covid-19 pandemic time. But after more use of e-commerce apps and making more related apps it is very simple to develop businesses during covid 19 pandemic duration.
Author
Publisher Name
Publisher Logo