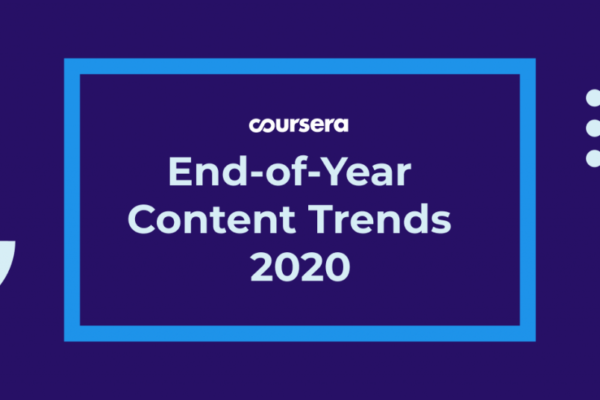 Most Popular Coursera Courses of 2020
We have already looked at the Most Popular courses of 2019, here we take look at the most popular courses of 2020 that will supercharge your career and expand your knowledge.
Check them out, and start enrolling today!
In this course, you will engage in a series of challenges designed to increase your own happiness and build more productive habits. As preparation for these tasks, Professor Laurie Santos reveals misconceptions about happiness, annoying features of the mind that lead us to think the way we do, and the research that can help us change. You will ultimately be prepared to successfully incorporate a specific wellness activity into your life.
Skills you will gain :
Gratitude

Happiness

Meditation

Savoring
The COVID-19 crisis has created an unprecedented need for contact tracing across the country, requiring thousands of people to learn key skills quickly. The job qualifications for contact tracing positions differ throughout the country and the world, with some new positions open to individuals with a high school diploma or equivalent.
In this introductory course, students will learn about the science of SARS-CoV-2 , including the infectious period, the clinical presentation of COVID-19, and the evidence for how SARS-CoV-2 is transmitted from person-to-person and why contact tracing can be such an effective public health intervention. Students will learn about how contact tracing is done, including how to build rapport with cases, identify their contacts, and support both cases and their contacts to stop transmission in their communities. The course will also cover several important ethical considerations around contact tracing, isolation, and quarantine. Finally, the course will identify some of the most common barriers to contact tracing efforts — along with strategies to overcome them.
What will you learn:
Describe the natural history of SARS-CoV-2 , including the infectious period, the presentation of COVID-19, and evidence for how it is transmitted.
Demonstrate the utility of case investigation and contact tracing, identify common barriers, and possible strategies to overcome them.
Define an infectious contact and timeline for public health intervention through contact tracing.
Present some ethical considerations around contact tracing, isolation and quarantine.
This course is the first of a series that aims to prepare you for a role as an entry-level IT Support Specialist. In this course, you'll be introduced to the world of Information Technology, or IT. You'll learn about the different facets of Information Technology, like computer hardware, the Internet, computer software, troubleshooting, and customer service. This course covers a wide variety of topics in IT that are designed to give you an overview of what's to come in this certificate program.
By the end of this course, you'll be able to:
Understand how the binary system works
Assemble a computer from scratch
Choose and install an operating system on a computer
Understand what the Internet is, how it works, and the impact it has in the modern world
Learn how applications are created and how they work under the hood of a computer
Utilize common problem-solving methodologies and soft skills in an Information Technology setting
Machine learning is the science of getting computers to act without being explicitly programmed. In the past decade, machine learning has given us self-driving cars, practical speech recognition, effective web search, and a vastly improved understanding of the human genome. Machine learning is so pervasive today that you probably use it dozens of times a day without knowing it. Many researchers also think it is the best way to make progress towards human-level AI. In this class, you will learn about the most effective machine learning techniques, and gain practice implementing them and getting them to work for yourself. More importantly, you'll learn about not only the theoretical underpinnings of learning but also gain the practical know-how needed to quickly and powerfully apply these techniques to new problems. Finally, you'll learn about some of Silicon Valley's best practices in innovation as it pertains to machine learning and AI.
This course provides a broad introduction to machine learning, data mining, and statistical pattern recognition. Topics include: (i) Supervised learning (parametric/non-parametric algorithms, support vector machines, kernels, neural networks). (ii) Unsupervised learning (clustering, dimensionality reduction, recommender systems, deep learning). (iii) Best practices in machine learning (bias/variance theory; innovation process in machine learning and AI). The course will also draw from numerous case studies and applications so that you'll also learn how to apply learning algorithms to building smart robots (perception, control), text understanding (web search, anti-spam), computer vision, medical informatics, audio, database mining, and other areas.
This course gives you easy access to the invaluable learning techniques used by experts in art, music, literature, math, science, sports, and many other disciplines. We'll learn about how the brain uses two very different learning modes and how it encapsulates ("chunks") information. We'll also cover illusions of learning, memory techniques, dealing with procrastination, and best practices shown by research to be most effective in helping you master tough subjects.
Using these approaches, no matter what your skill levels in topics you would like to master, you can change your thinking and change your life. If you're already an expert, this peep under the mental hood will give you ideas for turbocharging successful learning, including counter-intuitive test-taking tips and insights that will help you make the best use of your time on homework and problem sets. If you're struggling, you'll see a structured treasure trove of practical techniques that walk you through what you need to do to get on track. If you've ever wanted to become better at anything, this course will help serve as your guide.
This course can be taken independent of, concurrent with, or prior to, its companion course, Mindshift. (Learning How to Learn is more learning focused, and Mindshift is more career focused.)
This course aims to teach everyone the basics of programming computers using Python. We cover the basics of how one constructs a program from a series of simple instructions in Python. The course has no pre-requisites and avoids all but the simplest mathematics. Anyone with moderate computer experience should be able to master the materials in this course. This course will cover Chapters 1-5 of the textbook "Python for Everybody". Once a student completes this course, they will be ready to take more advanced programming courses. This course covers Python 3.
What will you learn:
Install Python and write your first program
Use variables to store, retrieve and calculate information
Describe the basics of the Python programming language
Utilize core programming tools such as functions and loops
An overview of the ideas, methods, and institutions that permit human society to manage risks and foster enterprise. Emphasis on financially-savvy leadership skills. Description of practices today and analysis of prospects for the future. Introduction to risk management and behavioral finance principles to understand the real-world functioning of securities, insurance, and banking industries. The ultimate goal of this course is to use such industries effectively and towards a better society.
This course aims to provide managers and developers of contact tracing programs guidance on the most important indicators of the performance of a contact tracing program and a tool that can be used to project the likely impact of improvements in specific indicators. Students who complete the course will be proficient in using the Contact Tracing Evaluation and Strategic Support Application (ConTESSA) to estimate the impact of their contact tracing program on transmission and strategizing about how to increase their program's impact. A secondary audience for the course will be decision-makers interested in knowing more about the characteristics of effective contact tracing programs, and strategies to improve.
The course is designed for individuals who are already leading contact tracing programs who have significant experience with epidemiology and public health. We strongly recommend completing this course on a laptop or a desktop rather than a phone as you'll need to complete worksheets and open the course and the application simultaneously.
What will you learn:
Identify and calculate metrics and indicators that can be used to measure the impact of contact tracing programs
Strategize about how to improve the impact of contact tracing programs
Use an interactive decision support tool to quantify the potential impact of testing and contact tracing strategies on reducing transmission.
Understand underlying assumptions used by the tool to estimate the impact of contact tracing programs
What are people most afraid of? What do our dreams mean? Are we natural-born racists? What makes us happy? What are the causes and cures of mental illness? This course tries to answer these questions and many others, providing a comprehensive overview of the scientific study of thought and behavior. It explores topics such as perception, communication, learning, memory, decision-making, persuasion, emotions, and social behavior. We will look at how these aspects of the mind develop in children, how they differ across people, how they are wired-up in the brain, and how they break down due to illness and injury.
This free Teach-Out is for anyone who has been curious about how we identify and measure outbreaks like the COVID-19 epidemic and wants to understand the epidemiology of these infections.
The COVID-19 epidemic has made many people want to understand the science behind pressing questions like: "How many people have been infected?" "How do we measure who is infected?" "How infectious is the virus?" "What can we do?" Epidemiology has the tools to tell us how to collect and analyze the right data to answer these questions.
In addition to a basic understanding of these essential tools, this Teach-Out provides a way for you to learn and connect with one another while continuing to practice the social distancing measures that will help keep us safe. We also hope to provide you with some tangible calls to action that will help you affect positive change for yourself, your community, and our society.
Like this post? Don't forget to share it!
Summary
Article Name
Most Popular Coursera Courses of 2020
Description
Here we take look at the most popular courses of 2020 that will supercharge your career and expand your knowledge.
Author
Publisher Name
Publisher Logo