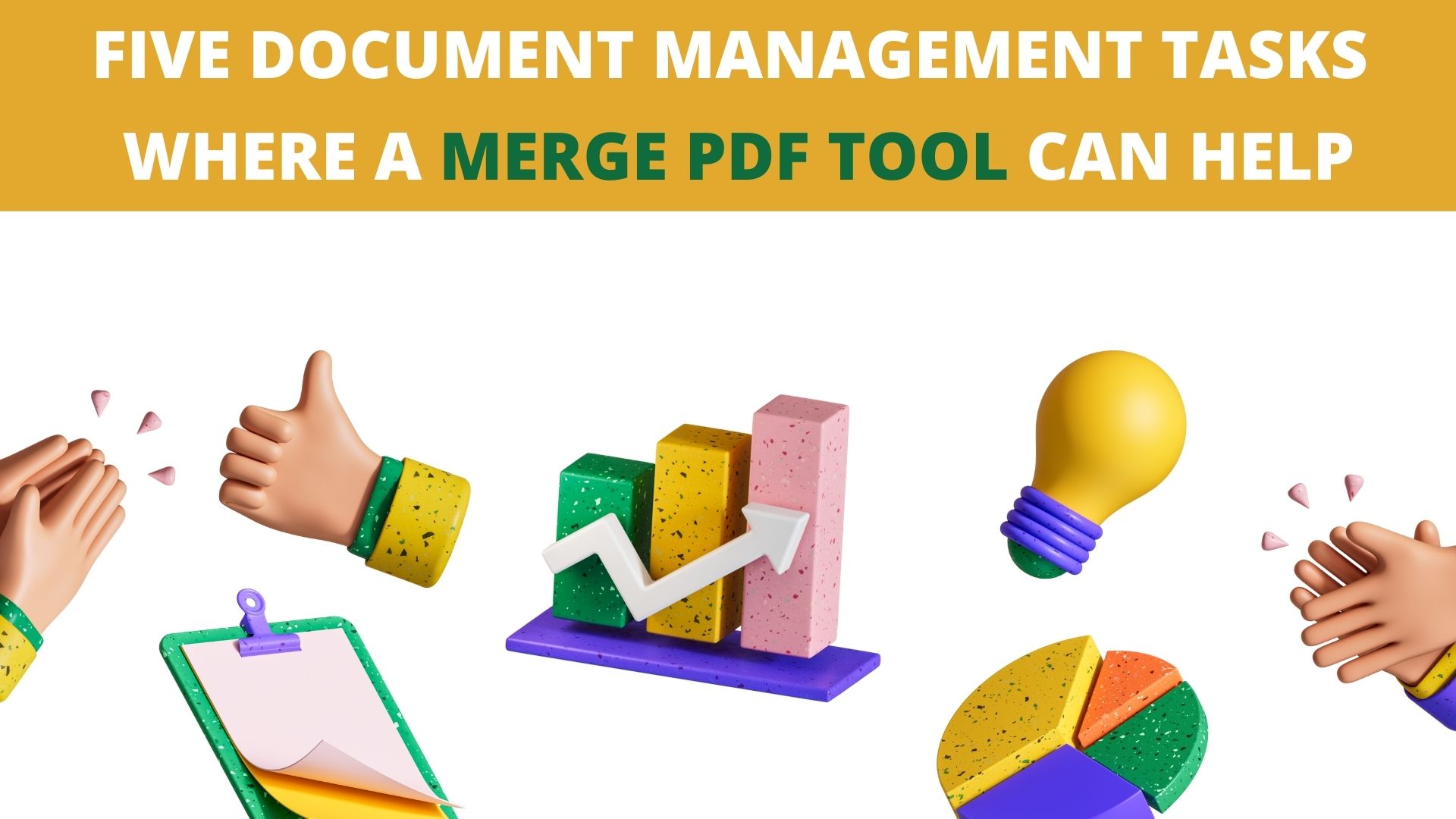 5 Daily Routine Tasks Where A Merge PDF Tool Can Help You With
Documents are an important part of our lives. You need to rely on them regardless of your professional or academic status. Lawyers, students, medical practitioners, real estate agents, and business organizations need effective documentation to keep track of their processes.
Managing your documents is a hard nut to crack, especially when you don't know how to do this effectively. People are likely to waste their time and resources due to a lack of document management skills.
Fortunately, technological advancement has blessed us with several useful solutions to help us with document management. An online PDF merger is one of the tools that can bring peace to your life by solving many document problems.
In this article, we will talk about five routine tasks that pertain to document management and how an online PDF merger can help tackle them effectively.
Five document management tasks where a Merge PDF tool can help
There are so many tasks relating to document management. Here we are going to shed some light on five of them and see how a PDF merger tool can help complete them effortlessly.
1) Organize the documents
Every person in today's world is likely to have a bunch of documents. Some of them might be saved on your device in digital format, while others could be in paper form and placed in a cabinet next to your table. Unfortunately, organizing them all is a daunting task if you do that manually.
However, there's a smart way out to beat the boredom of manually organizing your documents. You can take advantage of an online PDF combiner to merge PDF online without any stress. This is one of the best online tools to help with the organization of documents.
The basic function of a PDF merger tool is to combine multiple documents into one. This is something that can work wonders in organizing shattered digital files.
Suppose you have hundreds of files laying here and there on the internal storage of your laptop or smartphone. How would you find the required file if they are not organized?
An online PDF merger allows you to combine relevant PDF documents in simple steps. You can consolidate the relevant documents and place them in separate folders so that they are always easier to access when the required information is needed.
You can set aside ten files that contain relevant information, upload them to an online PDF merger, set their order, and click the 'Merge Files' button to convert them all into one. That's how easily you can organize documents with the help of a merge tool.
2) Managing multiple projects
Managing multiple documents is a routine task for many people. They have to manage invoices, sales receipts, contracts, agreements, and many other types of files. One of the most common problems I see in organizations is how to manage multiple documents.
The problem is that many people use Microsoft Word or Google Docs to create and share documents, but these tools don't have any way to merge and combine them. This creates a huge problem for companies in terms of efficiency and productivity.
Here's how an online PDF Merger tool can help manage multiple project documents:
It allows you to upload multiple files and convert them into one file. This allows you to use the same merge tool for all your projects instead of learning a new system for each one. This also makes it easy for other team members to access the same documents since all they have to do is click on a link that you can share after generating a combined output.
After merging multiple documents, you can organize your files into folders based on their topic, which allows you to keep everything organized without manually sorting through hundreds of pages every time you want to find something specific.
It can be accessed anywhere with an internet connection – so whether you're at home or out at a client's office building, all your files can be combined in a matter of seconds.
3) Easy sourcing of information
PDF files can be a nightmare for anyone who wants to find a specific piece of information quickly. The problem is that each PDF file is essentially its own island, which means you have to open each one individually and look through it manually. However, if you combine multiple PDFs into one document, it becomes much easier to locate the information you need.
Combining multiple PDF files is also a good option if you want to print several pages simultaneously without having them all on separate sheets of paper. You can also use this technique to combine multiple Word documents into one file for easier printing or sharing.
If you work with many PDF documents, you may find it a challenge to find the right one when you need it. If you have more than one document open at once, locating the right information can be even more difficult.
Here's how combining multiple PDF documents can make it easy to find the correct information:
Instead of opening more than a few files, you just have to open one file and locate the information you are looking for. This is much easier as compared to going through several files. You can further make it easy to source information by using techniques such as bookmarking.
Bookmarks allow you to highlight important sections within a document. They will always be easily accessible when you need them later on down the road or even in another document altogether.
Bookmarks are also great for adding hyperlinks so that other documents will automatically open up when clicked on from within another document.
4) Sharing documents online
Sharing documents online becomes easy when they are combined using an online PDF combiner. This is because it is not only a simple way to merge the documents together but also a secure way of sharing them with those who need them. Once you have generated the desired output of the combined PDF document, you can share it right away using WhatsApp, Email, and a direct link.
PDFs are usually used for storing electronic documents and other types of information in a digital format. They are also used for sending these files across the internet or even through email as an attachment. However, sometimes it can be difficult to send multiple files because it may not be possible for everyone to open them or view them on their device.
So what do you do if you have multiple documents that need to be shared with someone else? How do you combine multiple documents into one single file so that they can be viewed by anyone? The answer is simple. Simply use an online PDF combiner tool.
There are many different types of tools available out there that allow users to merge multiple files into one single file easily. These tools even allow users to add watermarks, passwords, and security features to their merged document. Some additional features include adding images and text boxes along with merging multiple files into one single file easily.
However, it is recommended to use a reliable tool to process your merge PDF requests. A trustworthy PDF merger delivers great results and always takes care of your document's privacy. In addition, you can be sure that the information in your PDF files is fully protected from hackers' access.
5) Removing the clutter
When you have a lot of PDFs on your device, they can quickly get cluttered. This is especially true if you use several devices and apps to view your PDFs. The good news is that there are tools available online that can help you combine all of your PDFs into one document that is easier to read, share and manage.
An online PDF combiner allows you to upload multiple PDF documents and then merge them into one single document. These are great for those who want to reduce clutter on their devices while also making it easier to share files with others who may not have access to the same program.
The process is quite simple: You upload all of your documents by dragging or dropping them onto the website's interface. Once uploaded, the pages will be combined into a single document which can be saved as a new file or downloaded directly from the website's interface.
There are several benefits of using an online PDF combiner rather than downloading any third-party program onto your computer or device. You don't need any additional application installed on your device – everything is done through an online interface when you opt for an online PDF combiner.
Conclusion
In conclusion, it's important to keep track of documents, so they don't end up lost or forgotten. An online merge tool can help you organize your files by combining them. As a result, you can share them easily with colleagues and clients.
Summary
Article Name
Five Routine Document Management Tasks Done with a PDF Merger
Description
An online PDF combiner is a great tool that can help you out in several ways. This article discusses five main routine tasks that you can carry out with a PDF merger.
Author
Publisher Name
Publisher Logo