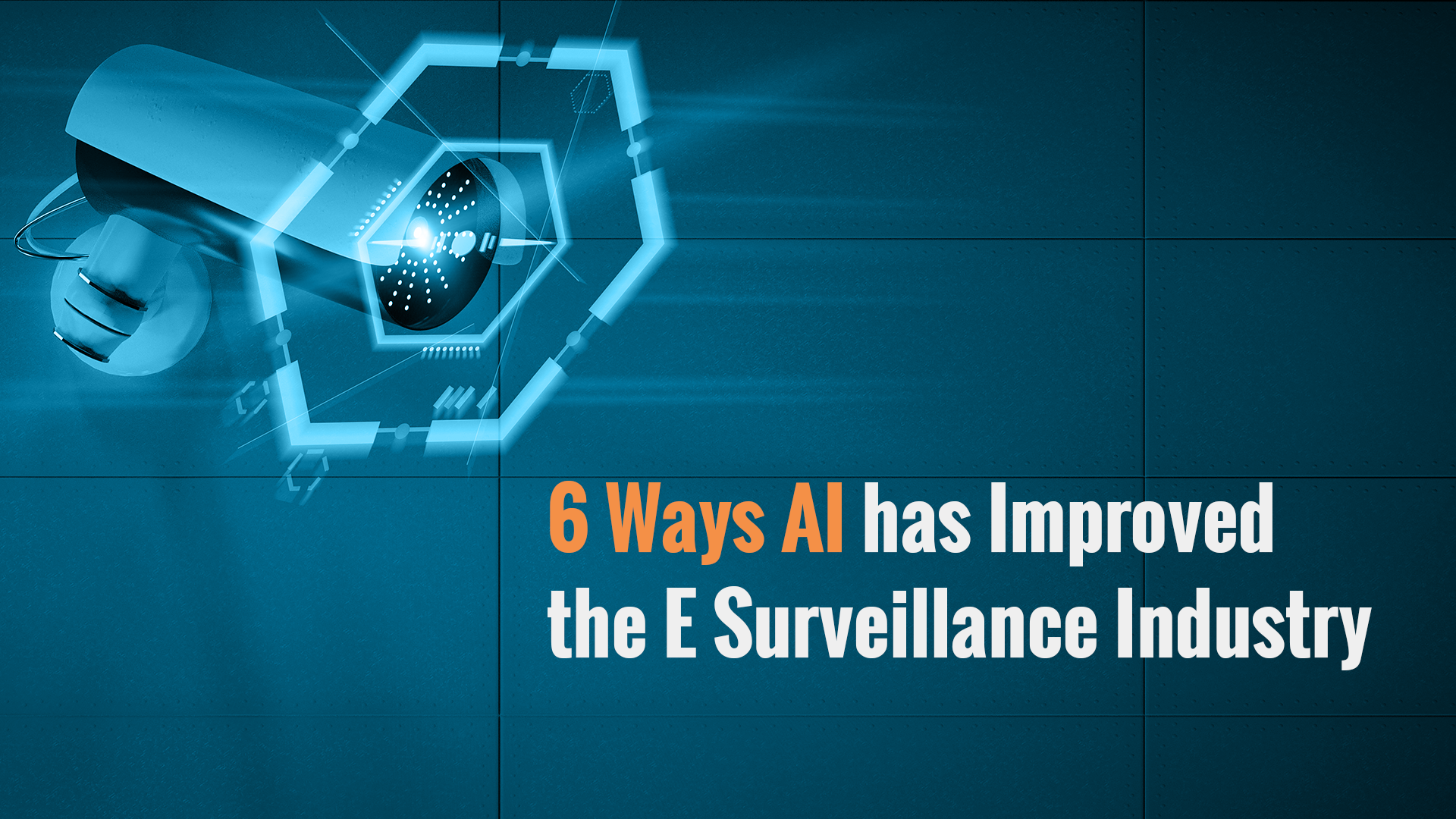 6 Ways AI has Improved the E Surveillance Industry
According to a 2019 study, 51% of enterprises primarily rely on AI for threat detection, leading prediction, and response. 
Businesses have rapidly started using AI (Artificial Intelligence) as a way to improve their efficiency as well as their security. Using AI to improve your day-to-day work/operations may be new but AI has already worked wonders in improving the surveillance industry. Here are 6 ways how AI has improved the E Surveillance Industry:
Motion Tracking
By using motion sensors, one can detect if someone is trying to or has forcefully entered. For instance, if someone tries to enter a room forcefully, the sensor would be triggered. Once the sensor is triggered, a real-time notification along with live footage from the nearest camera would be sent to on-site personnel for an instant review and action.
AI-equipped vibration sensors can detect unwanted movement around the security perimeter/fences. Any unnecessary force or movement would trigger the sensor, which would then alert the manual security team on-site to take immediate action.
Cost Cutting
AI uses the data collected from energy sensors and gives the following benefits:
Calculates overall energy consumption and spending patterns
Helps in identifying effective and ineffective areas
It can separately monitor the energy efficiency of each piece of machinery and the machinery system as a whole
Can help in effectively increasing machine uptime and reducing equipment maintenance costs.
Recognition and Alert
Theft of assets or data can cause significant damage. It can lead to unrecoverable losses, disturb the smooth running of day-to-day operations and tarnish a brand's image and reputation.
Using AI-based Facial Recognition with E Surveillance Cameras one can tackle such issues by:
Automatic recognition of approved individuals.
Instant review if an unknown individual tries to enter.
Alerting on-site personnel if an individual somehow manages to enter.
Rapidly identifying a person of interest in real-time using digital images extracted from the video footage.
Monitoring Operations
AI along with E Surveillance Cameras can assist in keeping a check on employees by:
Ensuring they are following the protocol
Monitoring if they are indulging in any suspicious activity
Checking the opening and closing time of a facility
Ensuring the goods or equipment are not damaged in the process of operations such as loading and unloading of goods.
Premises Safety
AI uses the data acquired from access authentication, cameras, and sensors to identify concern/pain areas.
By including biometrics, keys, fobs, cards, or OTP-based access along with E Surveillance Cameras and various sensors one can add an extra layer of protection apart from manual security.
The data acquired can then be used to identify potential areas of concern by analyzing images, videos, and differentiating threats from standard activity.
Eliminating Human Errors and Biases
Manually guarding/monitoring a facility can be very difficult. To manually note every movement of entry & exit at a facility during the day and to safeguard a facility at night without making any error is virtually impossible. AI-equipped E Surveillance Cameras help in monitoring a facility 24/7 and identifying and solving problems in real-time.
While humans may have biases but machines don't, using E Surveillance Solutions, you can take factors like human bias out of the equation. Imagine, a security guard allowing someone to enter a facility at night or at weekends when the facility is closed. By using AI-equipped Cameras, you can not only identify an individual entering the facility but also alert the relevant authorities so that immediate action is taken.
Conclusion
AI has come a long way, and as we go on, the quality of detection has improved, and therefore the use of AI in Security and Surveillance has already become a necessity. It improves detection accuracy without increasing the hardware cost. It reduces the cost and the workload of manual security quickly and efficiently.
IGZY provides AI and E Surveillance Solutions customized solutions to eliminate enterprise-level threats to security and safety.
For more in-depth knowledge on how AI, Cloud Storage, IoT, Cameras, Sensors, etc. can help you and your business, click here.
Summary
Article Name
6 Ways AI has Improved the E Surveillance Industry
Description
AI-based E Surveillance Solutions help in monitoring operations and making efficient real-time decisions to deter threats and losses.
Author
Publisher Name
Publisher Logo