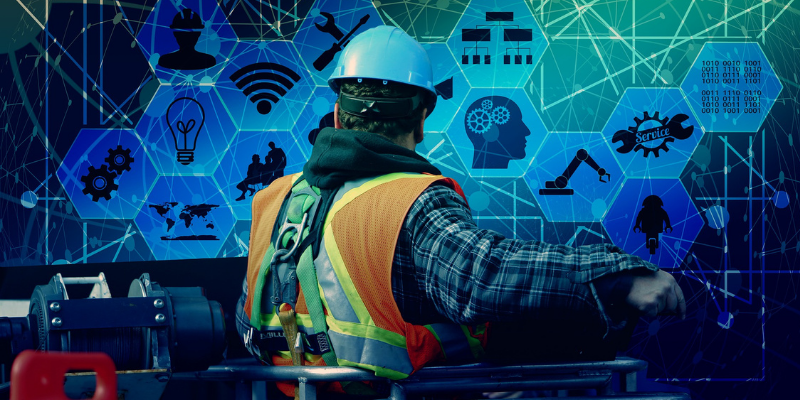 The role of Artificial Intelligence in Future development
In today's fast-paced world, it's easy to notice that each industry evolves at its own pace, but it's only just been discovered that the usage of artificial intelligence (AI) has become the talk of the town. As a result, this research focuses on obtaining information about AI and its impact on the global corporate industry. One of the significant applications of Artificial intelligence in business is in the capital markets, where it helps organizations run more efficiently. Therefore, the crucial role of artificial intelligence in this study is to increase trade in many areas while simultaneously addressing appropriate and inappropriate challenges.
Importance of AI
Businesses and professions that use AI systems will become more diversified. They'll be able to assess data from various sources, detect fraud, and provide a top-notch relationship with customers. They will be able to get a significant competitive advantage from this.
Artificial Intelligence is the future of Business Intelligence.
Any company's data has become its essence. Data can improve staff morale, management, customer response, supply chain management, etc. As a result, Big data plays a critical role in the organization's performance. Nevertheless, business intelligence is the only way to get good outcomes due to the volume, pace, and range of data in use.
In today's competitive environment, business intelligence tools are becoming increasingly important. As demand increases, so do growth plans. As a result, Business Intelligence's future will undoubtedly see a rise in incapability to support enhanced usability for non-technical users, more efficient workflow, and increasingly sophisticated predictive abilities.
Artificial intelligence is now used by numerous enterprises in a variety of ways. It includes anything from using Automation chatbots in call centers to applying deep learning in banking to analyze many data sets and prevent fraud quickly.
Changing the Role of Developers
AI is changing the way software engineers work. It can assist people with their programming, but it will be years before it can start coding for them or replacing them. On the other hand, developers can focus their expertise on a new set of jobs and build skills that will help them collaborate with AI when they automate chores and delegate them to an artificially intelligent system.
AI outsourcing has become a hot topic in 2022, and the industry is now more focused on developing customer software, which will significantly impact job quality.
Decision-Making Power
The extraordinary decision focused on statistics and anchored in prior behavior can help decrease risks and costs connected with them. The AI-assisted choice will also contribute to the elimination of human cognitive biases. Data can assist in making wise and well-informed decisions. Data is gathered, analyzed, and leveraged by machine learning, and the computer then makes statements based on it.
Market & Customer Insights
Artificial intelligence (AI) could be beneficial for customer and marketing studies. For example, multiple linear regression analysis creates excellent and improved products based on data gathered from the system matrix, web matrix, and social networks. In addition, analytics tools may help you take your customer life to the next level.
AI may be highly beneficial to start-ups. Start-ups might investigate prospects to work on a new thought process and design new ones focused on business development. Through frequent quality inspections, predictive maintenance assists start-ups in lowering maintenance costs.
Process Automation
With the remarkable progress of AI, industry professionals forecast a new era of advanced technology. Artificial intelligence is rapidly replacing ordinary cognitive tasks. As a result, upgrading technology is becoming increasingly important in numerous areas, including retail and financial services. These machines or programs perform exceptionally well, but they can also operate 24 hours a day, seven days a week.
Efficient Sales Process
Sales teams use AI to understand their consumers better and deliver personalized solutions. For example, E-commerce firms use AI to pose a question to their consumers and then customize the items to present just the ones that are the most excellent fit for the customer's tastes. As a result, it increases the likelihood of conversion.
AI personalization
Artificial intelligence learns from past transactions and advances with each transaction. Therefore, the following immediately recommended option is preferable to the preceding one. And this is critical for Business Intelligence systems and how they impact company functions.
Eventually, the AI system will be robust and account for all possibilities. It only gets easier to utilize and make power judgments.
Healthcare Industry
Since artificial intelligence, the healthcare industry has achieved tremendous improvements. For example, patients and physicians can communicate by email, online chats, or phone conversations in today's world.
Using the internet to communicate with your doctor is beneficial. You may rapidly obtain vital information about an ailment rather than booking a doctor's visit and waiting until your appointment. All patient data is also saved in a database, which the doctor or patient may consult online whenever they require it. Because this data is in a computerized system, artificial intelligence assesses the risk of specific illnesses. In addition, the application links a patient's family medical history to their present healthcare data.
AI for Artists
Artificial intelligence technology that analyses a user's listening or viewing patterns will result in a more happy consumer. If someone genuinely likes a product, they will tell others about it. They will ultimately suggest it to others, which means more consumers. Thus it is worthwhile to use this AI system to learn about individuals. These systems also present users with new artists or items depending on their software engagement. For example, it might be an efficient approach for young artists to promote themselves. Suppose they were able to place their music on a platform that identified them as being similar to a successful musician. It may help promote their music if enough people listen to them via suggested playlists and receive positive feedback.
Automated Vehicles in the Future
Self-driving cars will also be utilized for ride-sharing. Because there is no human driver, ride-sharing in cities will become increasingly popular. This example of self-driving automobiles with artificial intelligence is a new and fast-increasing market.
Is it possible that Uber-style rides will substitute individual and light truck automobiles?
However, sharing is quite improbable. People enjoy their driving, efficiency, ease of use, and security. As Tesla has demonstrated, driverless vehicles gravitate toward high-performance cars.
Conclusion:
Artificial intelligence and automation systems are becoming increasingly common in today's culture. They provide tailored solutions for standard services while also trying to make the world more effective. AI will likely be incorporated into new aspects of life as it improves. With more data to evaluate, these AI algorithms will become more adaptable in their unique field of expertise. People should recognize the possibilities of AI and strive to apply it in novel ways in society. Some people will lose their employment, but a more automated organization will be more efficient. People are unsure what changes will occur due to this innovative technology, but entirely new professions will inevitably arise in the context of these innovations.
Summary
Article Name
The role of Artificial Intelligence in Future development
Description
Artificial intelligence and automation systems are becoming increasingly common in today's culture. They provide tailored solutions for standard services while also trying to make the world more effective.
Author
Publisher Name
Publisher Logo