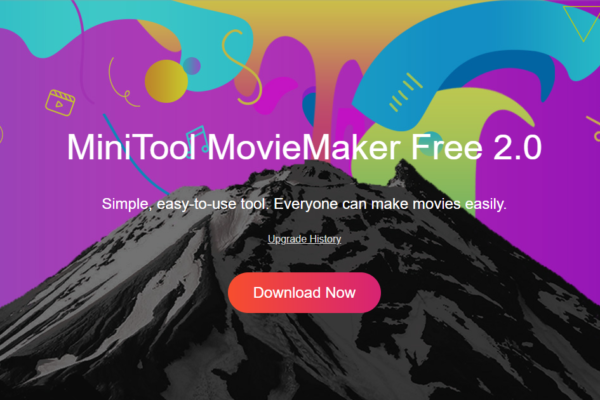 Creating and Editing Movies with MiniTool MovieMaker 2.0
Over the past few years, technology has developed so quickly that now with a smartphone for several hundred dollars we can become a creator on the internet. Devices for several thousand dollars, on the other hand, offer opportunities at such a high level as digital cameras some time ago. It should be remembered, however, that just registering the material is half the battle. Nowadays, recipients have become more demanding and are more willing to watch video that is characterized by good editing at a high level.
After Christmas and New Year Eve, we often have a lot of raw video material – a recording of a child unpacking his first gift from Santa or an attempt to hang the star at the top of the Christmas tree. The post-holiday period seems even created to make the part of the movies for which there was not enough time in the holiday turmoil.
MiniTool MovieMaker 2.0
It is worth stocking up with the right software now because every day is filled with situations worth filming. Our friends will certainly be pleased to see well-assembled recordings of New Year's fun on Facebook the day after. So today let's take a look at a piece of software MiniTool MovieMaker 2.0 that allows you to edit movies at home.
MiniTool MovieMaker 2.0 is a piece of software with possibilities that many paid programs would not be ashamed of. For completely free, we'll get support for 4K resolution, lots of advanced transition effects and special templates. The program also allows you to create copies of recordings from monitoring cameras.
Simple yet powerful
MiniTool MovieMaker 2.0 is an extremely simple program for processing audio and video materials that supports many formats. Its minimalist interface means that even less advanced users can handle assembly work. The MovieMaker database has dozens of templates that will allow you to slightly personalize existing videos, and the ability to change the soundtrack means that we can dub the video. Most importantly, MiniTool MovieMaker allows us to access all its functions and features for free of charge.
MiniTool MovieMaker 2.0 is far from perfect at this point. There will be more stunning features in the near future, and the full update list of new features enabled with software updates gives us a glimpse at what it can do.
Key Features
Simple Timelines
Stunning Transition
Studio-Quality Titles
Perfect Aesthetic
Trim/Split Video
System Requirements
MiniTool MovieMaker will run its best on a computer matching these tech specs.
Windows 7/Windows 8.1/Windows 10
Intel i5 or better, 2GHz+. (Intel 6th Gen or newer recommended).
8 GB RAM
Intel HD Graphics 5000 or later; NVIDIA GeForce GTX 700 or later; AMD Radeon R5 or later. Please keep your graphics driver updated.
10GB free hard-disk space (SSD recommended).
An additional, noteworthy advantage of MiniTool MovieMaker is the wide selection of media formats and the rather sophisticated possibilities of composing the soundtrack for local computer.
Final words
The programs have their specific features as well as similarities. Often the question of choosing this type of software is its intuitiveness and the possibilities it offers. But what should you consider outside of them? Ask yourself: which program do you want to switch to in the future?
It presents specific sample templates, and each stage of the work has been thoroughly described and illustrated, which allows you to manually add to your existing project. Sometimes just a few clicks are enough to create unusual films with MiniTool MovieMaker.
Like this post? Don't forget to share it!
Additional Resources :
Summary
Article Name
Creating and Editing Movies with MiniTool MovieMaker 2.0
Description
Today let's take a look at a piece of software MiniTool MovieMaker 2.0 that allows you to edit movies at home.
Author
Publisher Name
Publisher Logo