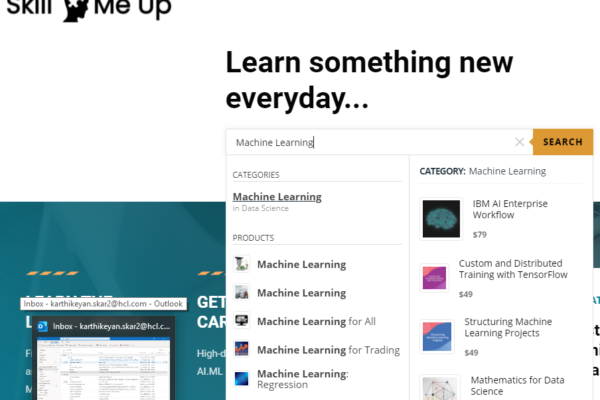 Skill Me Up aggregates courses from multiple providers to make it simple to find the best courses on almost every subject, no matter where they are.
Upskilling is becoming more relevant in today's context.
Upskilling is the method of acquiring new talents and abilities. It has recently become a buzzword as a result of accelerated technology advancements forcing businesses to adapt their business models. This also ensures that employees must constantly expand their skills/skillsets in order to keep up with emerging technologies and maintain their employment.
Working from home has also given more people more time to spend in themselves over the last year. There is always a skill gap between the number of vacancies that require new skills and the able candidates to be placed in those positions. Upskilling yourself has several advantages, including:
It offers you the opportunity to advance in your chosen field.
It increases your employability and your ability to move jobs marginally – the more skills you gain, the more doors open up for you.
In today's tough work market, upskilling helps you to stand out from the crowd.
You've improved your work stability and you're less likely to risk your job if you remain up with the market and don't fall behind.
Upskilling has been proven to improve employee performance and productivity by allowing you to do more diverse work, have a better view of your business, and reflect on your personal goals.
You could upskill yourself in a number of ways, depending on what's best for you and your profession. Below are some of the ways by which you can upskill yourself.
Online Training
Since it helps you to complete training from the comfort of your own home, online training is especially common right now. You will also focus on the preparation at your leisure, and you are not required to do it all at once. Consider what you want to do and what skills you lack that might help you advance in your career while choosing an online course (or your company).
Set a Personal/Professional Development Plan
This entails first setting targets for yourself and then devising a strategy for achieving them. Consider where you want to go and what you'll need to do to get there to help you set targets. Do you want to develop your leadership skills so that you can take the lead on a project for your colleagues, for example? Do you want to learn a new language in order to live and work in a different country? Goals help you stay focused and inspired.
Focus on Soft Skills
Communication, coordination, and durability are examples of soft skills that managers value highly. Although you may already have some knowledge in these fields, studying research-based tactics will boost your morale and show future employers that you've put in the effort.
Choose Microlearning
Microlearning consists of 5-10 minute training exercises, such as watching a short video and then doing a quiz or workout. This form of training can be done during workday breaks and is a great way to learn more about a specific subject.
Upskill yourself, Learn something new every day!
Summary
Article Name
Description
Skill Me Up aggregates courses from multiple providers to make it simple to find the best courses on almost every subject, no matter where they are.
Author
Publisher Name
Publisher Logo