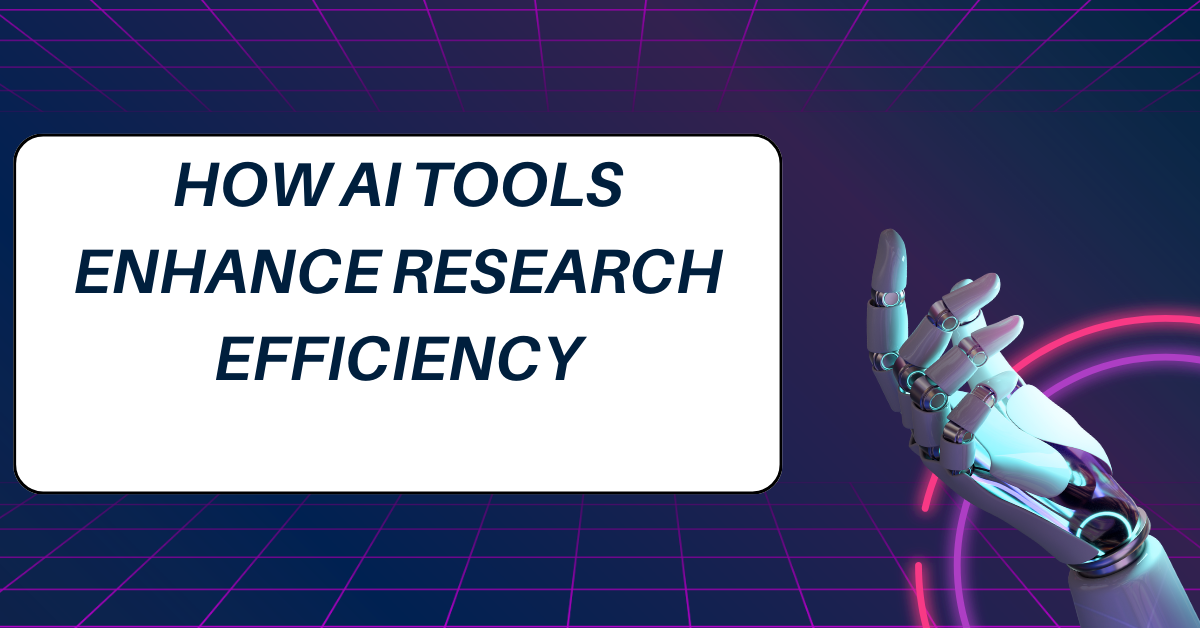 How AI Tools Enhance Research Efficiency
Innovation and progress cannot function without research. Nevertheless, that approach is rather cumbersome, particularly while reading the paper, doing reviews for literature, analyzing data, and referencing. Fortunately, with the progression of Artificial Intelligence, the research method became much faster, more accurate as well as cheaper.
Researchers can use AI tools such as automated systems that will free up time, cut down on costs as well and offer a direction for making choices.
This article will outline how AI improve research productivity as well as their advantages, types and challenges.
When you finish reading this article, you will become aware of ways in which AI tools can revolutionize research.
Various types of AI-based research tools
Research in all fields is being redesigned by AI (artificial intelligence) tools at an incredible speed. These tools can help researchers with a variety of tasks, including:
Literature search and review: Therefore, there are AI tools that can locate the relevant literature, take out the main points in the articles, as well as, summarize the findings. It could help researchers save much time and effort in getting the most contemporary and pertinent information.
Data analysis and modeling: Through the use of AI tools, it is possible to perform advanced analysis on a large dataset as well as detect patterns or create prognostic models. Moreover, researchers may develop different perspectives towards their own data thereby leading to improved decision making.
Experimentation and design: However, AI tools can be employed to create experiments, predict results as well and evaluate findings. Such measures will assist in improving researchers' performance in terms of efficacy and reliability.
Communication and collaboration: Such reports help in writing other papers such as presentations and collaborating with other researchers. By doing this, researchers may be able to communicate their findings in a better manner and attract more people.
Here are some specific examples of AI tools that are being used in research:
Google Scholar:
This is a Google Scholar website where one can find scholarly articles ranging from different fields. Established in 2004; Google's property. Google Scholar is a comprehensive search engine that searches different types of scholarly content like articles, books, theses, dissertations, and preprints.
This is a free search engine that researchers have widely used in research institutions across the globe.
Scite:
Smart Citations, powered by a search engine called Scite, assists researchers in finding relevant articles. Smart Citations categorize the contextual value or supporting arguments offered by a citation. Scite enables users to search citation statements, construct dashboards, verify citations, and visualise research networks. Scite processes the entire full-text articles in order to generate its database Smart-Citations which includes details of reference relationships between different papers, the actual context in which the references are placed, and their occurrences in the body of papers.
Scite employs a deep learning model that marks every citation context and assigns a label denoting whether a given citation supports, mentions or contradicts a claim. Students and researchers worldwide trust science. It is a reputable brand owned by reputable universities, publishers and other corporate entities.
Trinka:
Trinka is a web-based automated grammar checker and spell corrector dedicated to academic and technical writing. Its own patented artificial intelligence fixes 3000+ complex grammar errors and improves your writing past, grammar and spelling. Trinka looks into complex errors specific to academic writing such as complicated English grammar errors, scientific tone and style.
Trinka also provides corrections specific to your course based on reviews of top-scoring assignments in all courses. Trinka is specially produced for academic and technical writing; it rectifies over 3 thousand complicated grammar mistakes. Trinka is an AI-powered English grammar checker and language enhancement writing assistant designed for academic and technical writing. Trinka corrects contextual spelling mistakes and advanced grammar errors by providing writing suggestions in real time.
Summarizingtool.io
Summarizingtool.io is an effective AI-powered text summarizing tool that uses sophisticated algorithms to pick out vital information in long texts. It will help students, researchers and busy professionals with limited time to do their own reading and summarization of long articles into short summaries in a nutshell. In fact, its wide use including text mining for research purposes is what makes it a must-have tool for those involved with processing lots of information.
Researchers can use any of these and other tools for AI in order to carry out research. With the development of AI technology, it is easy to predict that there will be novel instruments used by researchers that will bring in more findings to make understanding of the globe better.
The impact of AI tools on the speedy nature of research
AI tools can enhance research efficiency in a number of ways, including:
Literature review
Researchers can be able to identify academic literature that can be relevant to their research using AI-powered literature review tools. The tools are also used to summarise articles and make a comment on the literature thereby saving researchers' efforts and time.
Data analysis
Researchers can use artificial intelligent driven data analysis tools that are effective for analyzing big information sets in time. Such tools are able to come up with patterns and tendencies, which may be quite tricky and hard for human beings to trace.
Citation management
Citation and reference management is automated using AI technology-powered citation management tools in the modern era. The above-mentioned tools are also instrumental in preventing plagiarism in the research process, ensuring proper references and appropriate citations in the paper as well.
Research assistants
Researchers can get assistance for several purposes including writing and editing of research papers, conducting surveys, and managing their social network pages through artificial intelligence-powered research assistants. These devices liberate researchers to concentrate more on the creative and strategic tasks concerning their research.
Conclusion
There is an opportunity for AI tools to impact the research process. Researchers may use these tools to save time and improve precision in their findings as well as understand some aspects of their data better than they could do on their own. Nonetheless, researchers should bear in mind that various limitations are inherent in such AI-assisted tools and make efforts to circumvent those limitations. With proper use of AI instruments, researchers can increase the productivity of their work, thus contributing greatly to their area of profession.
Summary
Article Name
How AI Tools Enhance Research Efficiency
Description
Researchers may use these tools to save time and improve precision in their findings as well as understand some aspects of their data better than they could do on their own.
Author
Publisher Name
Publisher Logo