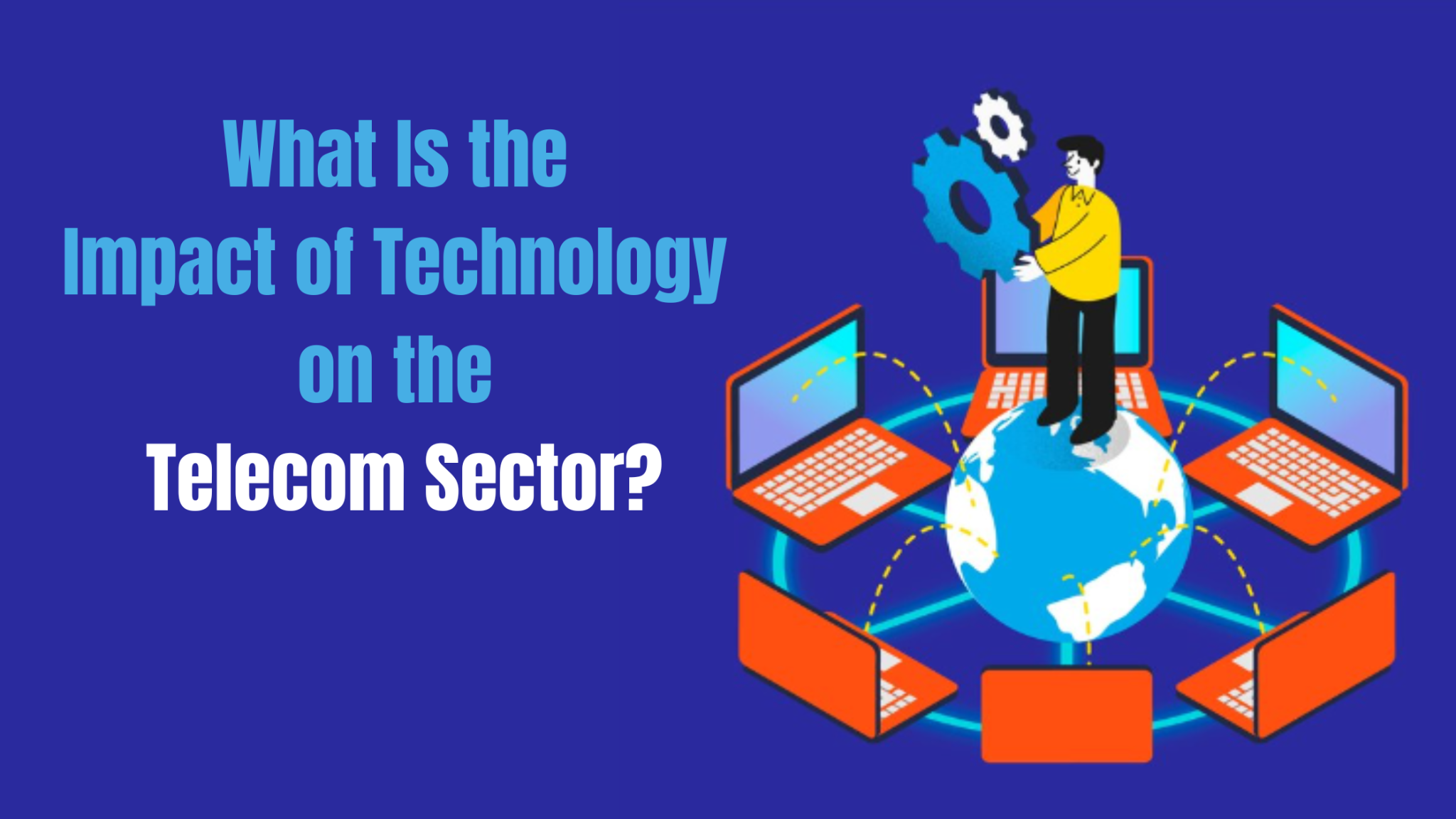 What Is the Impact of Technology on the Telecom Sector?
The definition of telecommunications is "distance communication by cable, telegraph, telephone, or broadcasting." The telephone was created in 1876, and the World Wide Web was created a century later. This process marks the beginning of the telecommunications business.
Having said that, there have been a lot of changes in the industry.  Technology is both the foundation and the end of the telecom sector. However, they sort of collaborate to provide the most effective kinds of communication. Technology has pushed and continues to push the telecommunications sector to the top. It starts with the switch from analog to digital communication and continues with the cloud introduction.
The significant impact that technology has had on the telecom industry is examined in this article.
How Telecommunication Technology Evolved and Its Benefits
People have always been able to communicate across enormous distances on Earth; in the past, they even used smoke signals and drums to do so. But as communications technology has advanced, these are now just a strange attraction. From the days of landlines to smartphones and high-speed internet, the telecom sector has advanced.
Technological developments have made communication faster. It would be more dependable, which has enhanced accessibility and connectedness. Long-distance communication is made possible by Morse code technology. It made it possible to send communications over great distances swiftly and precisely. We talk about the advantages of technology in communications here.
Remaking the experience for customers
Enabling a digital lifestyle through a variety of services, such as the transition to 5G, is known as digital transformation. Telcos will be able to fully utilize the monetization potential of the next-generation network, offering distinctive and differentiating services ranging from autonomous vehicles and industrial IoT applications in manufacturing to smart homes, buildings, and cities.
Enabling cutting-edge service offerings enhances CX. Through greater interaction, digital transformation is also intended to improve customer relationship management. It makes it easier to upsell and cross-sell, and it continuously changes its offers to meet the demands of its customers. This will guarantee quick and easy problem-solving.
Provide precise insights based on data
Having access to important data insights is one of the main advantages of the digital transition. It continuously assesses the health of your clientele and adjusts your programs and services. It also contains your long-term objectives and business plans. Using business intelligence (BI) insights effectively increase revenue and return on investment.
Advanced client segmentation can be achieved using detailed and configurable reports. This facility is offered by a next-generation digital BSS platform. You may develop offerings that are relevant and tailored by using the information from these reports. It will also increase loyalty and enhance plan pricing.
These insights also aid in the creation of targeted advertising. to advertise both your own products and services and potential third-party sponsorships.
Partnerships and collaborations lead to innovations
In what ways can digital transformation aid in keeping up with the competition from over-the-top (OTT) services like chat platforms and social media? When it comes to digital platforms, customers are more engaged than with traditional service providers. Through the creation of cross-industry alliances for a variety of over-the-top (OTT) services that engage customers directly, the digital transformation improves customer relationships.
The integration of these services is made possible by network modernization solutions. This implies that the telecom is able to guarantee the services' end-to-end management. They are also keeping command of them and offering a comprehensive client experience.
Creating new revenue streams is a necessary step in network transformation. These collaborations are being facilitated by the integration of a partner management system. In addition, they are handling a lot of connections, use cases that call for extremely low latency, and other things.
Virtualized and flexible network environments
It is now feasible to continuously adjust to changing market demands thanks to digital transformation. They are establishing an elastic network environment and reacting with creative offerings. Greater agility translates into quicker reaction times, which keeps telcos one step ahead of their rivals.
By using Network Functions Virtualization to replace traditional hardware and using a software-based method to perform different traditional network functions, an agile network environment is virtualized. Contemporary cloud-native BSS transformation solutions comply with NFV. They are assisting telcos in lowering OPEX, increasing agility, and cutting operating expenses. By avoiding costly and frequent hardware changes, they lower costs while supporting a variety of next-generation use cases.
Compared to 5G, earlier network generations—including 4G—did not meet as many use-case expectations. 5G supports use cases with higher throughput, speed, efficiency, and other requirements. A virtualized network environment is required to handle the increased traffic load and changing needs.
A growing number of telcos are transitioning to a virtualized core network. Modern deployments are more nimble thanks to increased standardization and network-agnostic software.
Improved sales conversion rates and automated procedures.
Workflow and process automation lessen the reliance of operators on employees. They help maintain low operating expenses and reduce the possibility of errors resulting from manual involvement.
Automation is integrated into all processes and at all levels of digital transformation. This involves automating sales procedures to minimize effort, conserve time, and more. Centralizing all daily processes, helps to streamline the whole sales life cycle. In addition, they manage the sales funnel, stimulate conversations and gather leads.
In this case as well, utilizing data via sophisticated analytics aids in forecasting sales, identifying the most profitable lead sources, and enhancing the sales process.
Wrapping Up
Technology has played a major role in the telecom industry's development. It has changed sectors, improved connections, and influenced how we live and work. Technology is having a significant and continuing impact on the telecom industry. The telecom industry is expected to undergo even more significant changes in the years to come as technology develops further.
Summary
Article Name
What Is the Impact of Technology on the Telecom Sector?
Description
Technology has played a major role in the telecom industry's development. It has changed sectors, improved connections, and influenced how we live and work.
Author
Publisher Name
Publisher Logo