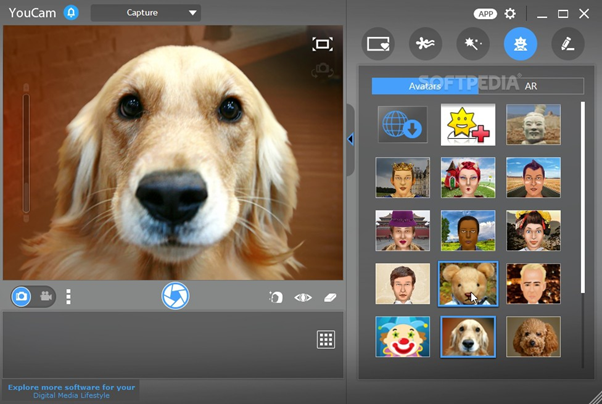 The 7 Best Webcam Apps for Windows
A webcam on your PC can do much more than just take a photo or record you during a Zoom or Skype team call. With the right software, you can create amazing things and even use a webcam for surveillance purposes.
In this article, we will present a small selection of the most successful, in our opinion, apps for recording high-quality or funny videos from a webcam, surveillance, and broadcasting your activity directly to social media.
! Only those applications that are still running and supported by current operating systems are listed here.
Best webcam apps to try in 2022
#1.ManyCam
This utility is specially designed for broadcasting video from a webcam to other applications and web servers. Using the program, you can broadcast video from the camera directly to YouTube or Facebook. Musicians, entertainers, painters, and educators can showcase their skills or educate people online. And you won't need to master complicated tools, register accounts in third-party services, and so on.
We can especially emphasize the Chroma Key function, which allows choosing any background. This is especially useful if you want to hide your uncleaned bedroom while calling your colleagues.
This program is used by professionals from various fields. These include physicians who advise patients online and gamers-streamers who, instead of Twitch, use YouTube as their main platform.
ManyCam has a huge collection of effects and masks. There are more than 15 thousand of them.
#2.Logitech Capture
Logitech Capture is a powerful tool for capturing video from your webcam or desktop and broadcasting it to the Internet. It has many features – you can select the capture source, apply filters, configure the camera, and much more. The program is useful for streamers or video content creators. It mainly works with cameras from Logitech, but some features are supported without them.
Logitech Capture can record video from two sources at once for example, from a webcam and a window of any program. The video can also be customized select the resolution and frame rate, enable autofocus, adjust the scale, enable portrait mode (suitable for watching videos on smartphones), etc.
Logitech Capture includes many different effects. For example, you can apply filters, transitions, text overlays, select a background, adjust color, and more. The program can be added as a source for live streaming on YouTube, Twitch, and other services.
#3.Movavi Webcam Recorder
An extremely user-friendly webcam recorder from Movavi allows you to record videos in HD or higher quality, if computer resources allow, with or without sound. The program also supports simultaneous image capture from two streams from a connected camera and from a screen, which is very convenient if you are trying to explain something in your video using real examples.
You can start recording from a webcam in one click no additional settings are required. And the finished recording can be uploaded to YouTube directly from the interface.
#4.Bandicam
Bandicam is an incredible tool that makes video conferencing and webcam capture an enjoyable experience. By the way, this program is especially loved by gamers because Bandicam makes it easy to capture screens from Xbox and PlayStation and broadcast the gameplay as well as webcam comments to the audience.
Bandicam also has editor functions: right in the program, you can cut, edit, combine videos or change the quality of the material. But what really makes it one of the best is its ability to shoot highly compressed videos of remarkable quality a rare feature that most webcam software lacks.
Apps to add some fun
#1.WebcamMax Free
A fairly old, but still popular utility for working with a computer webcam.
With WebcamMax, you can record video from your camera and save it to your hard drive. However, not just save, but apply various effects. They mean all sorts of distortions of faces, masks, animations over the image from the camera, inscriptions on the face, and so on. Basically, it's the progenitor of Snapchat and Instagram masks. The number of these effects reached several hundred, so people would hang in WebcamMax, scrolling them for hours.
The collection of effects can be replenished with your own, the main thing is to create them in special software and save in a suitable format.
#2.YouCam
YouCam is a webcam app that has an absolutely simple interface that even a student can understand. This program is easy to use and offers a wide range of editing tools. You can also customize special effects here, such as scene filters, emojis, and face distortion lenses.
To make things even more immersive, it comes with AR stickers and live animations that will add spice to your videos.
In case you want to look more professional, use the PerfectCam tool from the same provider, where you can blur your background, use a default background and import your custom background.
YouCam can sync with Zoom and Skype.
Bonus: video surveillance app
IP Camera Viewer
Besides video chatting and streaming, IP Camera Viewer has an incredible surveillance function. You can use it with your PC's camera or IP cameras to monitor and protect your home.
IP Camera Viewer supports almost all video resolutions and makes it easy to adjust the contrast, saturation, and sharpness of your videos. With this program, you can connect up to four cameras at the same time.
Final say
Video conferencing today, as well as recording instructional videos when attending courses or capturing gameplay, is becoming the norm, increasing the demand for powerful and functional webcam software that can boost productivity multiple times. So why not pick the right webcam software from this list and add a spark to your online calling or content recording?
Summary
Article Name
The 7 Best Webcam Apps for Windows
Description
Today, we will consider webcam recorders and apps that can form a video surveillance system, improve the functionality of the camera and add fun effects during video communication.
Author
Publisher Name
Publisher Logo