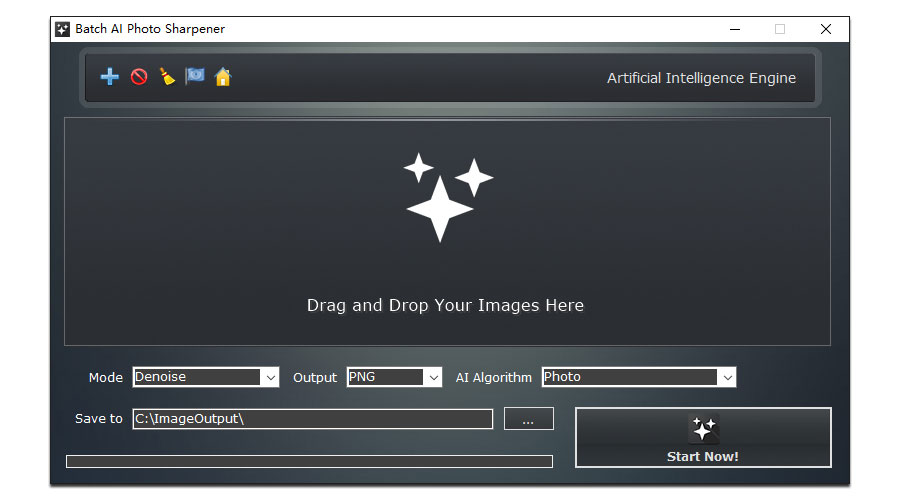 A New AI Photo Utility that Sharpen, Enhance, Denoise and Unblur Photos by the Deep Learning AI Algorithms
Editing images in batches is something that many users do: for example, if most of users' stills from a shooting session came out underexposed, applying a contrast and brightness bump to all of them can save them some time, and enable them to focuses on other aspects.
However, looking to enhance the clarity of photos is a little different. Some utilities leverage artificial intelligence algorithms to grant you the possibility to apply a sharpness fix to multiple photos at once. Here comes the new photo enhancement freeware tool Batch AI Photo Sharpener, which allows you to enhance and sharpen images and photos in bulk offline by the deep learning AI (Artificial Intelligence) algorithm. Besides offering that, Batch AI Photo Sharpener additionally enables you to unblur and denoise your photos from low quality JPG and PNG photos to high quality ones easily.
One enhancement, multiple photos
Batch photo tools are in a bit of a difficult spot to ascertain right now. Wanting to change the same parameter across multiple photos at the same time could be a bit trial-and-error sometimes, as you'll inevitably need to go back and adjust some stuff accordingly, as each photo has its own particularities.
Sharpening multiple images at once, or denoising or unblurring them, sounds good on paper, but in practice the predicted and actual results may vary.
It is easy enough to get started with Batch AI Photo Sharpener, at least: drag and drop in the images you want to work with, and select the mode of enhancement you wish to apply. As mentioned before, you can unblur, sharpen, and denoise your photos, and if you are working with logos, cartoons or animation, there is a special AI algorithm mode for you.
Batch AI Photo Sharpener has 2 built-in deep learning AI algorithms (Graphic/Photo) and 3 different Modes (Sharp/Clear/Denoise). You can choose one you need in the options for different requirements.
This powerful tool is a completely offline software product and won't upload or transfer data to the web. Batch AI Photo Sharpener handles photos on your local computer with your graphic card and completely makes your privacy safe.
Highlights of Batch AI Photo Sharpener
– Sharpen Unclear Photos
– Denoise Images
– Enhance and Denoise Photos by 2 AI Deep Learning Algorithms
– Sharpen Photos Smoothly Without Overexposed
– Support Both JPG and PNG Formats Output
– Batch Enhance Photos in Bulk
– 100% Offline
Conclusion
Batch AI Photo Sharpener is intuitive enough to utilize, and it is useful for many people. The photos it exports look perfectly processed, with some coming out much less blur as a result. The inclusion of a slider tool, or some options to adjust the sharpening enhancement strength would make this program go to a next level.
Availability
File size: 71.6 MB
OS: Windows 8, Windows 10, Windows 11 or later, 32/64 bit.
Official Homepage: https://bggenerator.com/batch_ai_photo_sharpener.html
Program Screenshot: https://bggenerator.com/batch-ai-photo-sharpener.jpg
Summary
Article Name
A New AI Photo Utility that Sharpen, Enhance, Denoise and Unblur Photos by the Deep Learning AI Algorithms
Description
Sharpens, denoises, and unblurs your images in bulk through the use of an deep learning AI algorithm, which could adapt to a few stills, including logos, cartoons and anime
Author
Publisher Name
Publisher Logo