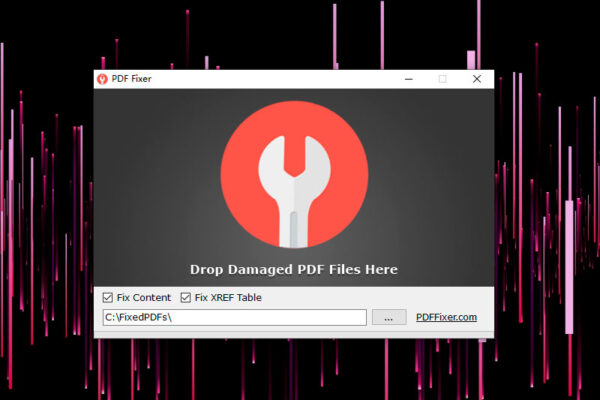 New Corrupt PDF Repair Utility Fixes PDFs by Data Restructuring
Today PDFFixer.com launched their new freeware utility PDF Fixer, which fixes damaged and unreadable PDF files by restructuring the corrupt PDF data, rebuilding XREF tables, and then recovers these PDFs back.
PDF is a very common file format on the internet of everyone's daily work. It is a binary coding format created by virtual printing of various documents. Since most PDF content is compressed, editing PDF documents with a text editor will cause data corruption, or lose part of the data due to network instability during internet transfer, which will cause PDF documents to be damaged with errors. PDF reader programs cannot open or fix those damaged PDF files and would prompt a lot of errors.
Some open-source command-line utilities such as Ghostscript and PDFTK both have PDF fixing functions, but PDFTK can only fix PDF metadata and information issues, while Ghostscript can only recreate XREF tables. Once users require fixing a really corrupt PDF document, they will find that neither Ghostscript nor PDFTK can repair the PDF data, and they will keep prompting analyzing errors. Unlike these two utilities, PDF Fixer checks the data that still exists in the whole corrupt PDF doc, then combines all objects and data to fix it. PDF Fixer can fix a lot of PDF documents that cannot be fixed by Ghostscript and PDFTK.
PDF Fixer is a free PDF recovery utility that fixes the XREF table by reconstructing the corrupt PDF data and then restores these corrupt PDF files into readable PDF documents.
Highlights of PDF Fixer
Fix unreadable and damaged PDFs
Fix XREF tables of PDF
Save recovered data and content to PDF documents
Automatically preview the repaired PDF
Auto verifying & detecting corrupt PDF files
Batch fixing multiple corrupt PDF docs at once
No required Adobe Acrobat or Reader installed
Portable ZIP version available
Availability
Homepage: https://pdffixer.com
File Size: 16.5 MB
Portable ZIP Version: 19.2 MB
OS: Windows XP / Vista / Win 7 / Win 8 / Win 10 (32/64 bit) and Servers
Summary
Article Name
New Corrupt PDF Repair Utility Fixes PDFs by Data Restructuring
Description
A new freeware utility that fixes damaged PDF files by restructuring the corrupt PDF data
Author
Publisher Name
Publisher Logo