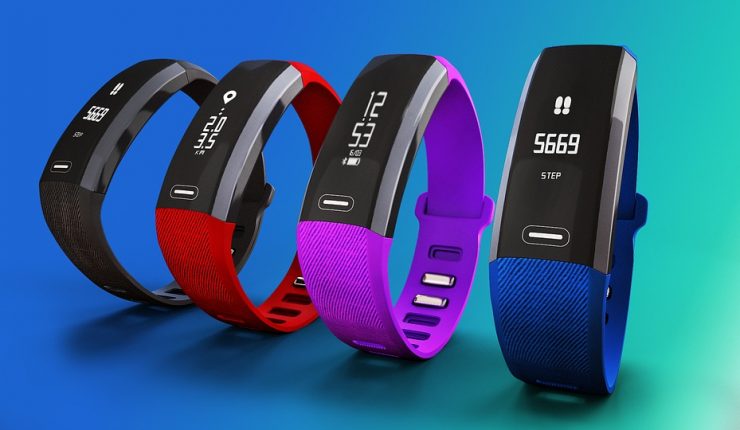 Here's list of best fitness trackers basically its much more than just basic step trackers.These devices monitor your habits, patterns and other factors that are key to a healthy lifestyle. A fitness tracker is your constant companion, keeping a tab on your health with respect to the physical activity, heart rate, calorie – intake and burned, idle time, length and quality of your sleep and more. As you're aware, now the activity band itself is becoming a wellness device, with 24/7 heart rate monitoring, sleep tracking and sedentary warnings.But the right fitness band for you will depend on your individual needs and how active is your lifestyle is.
These devices come in easy-to-wear, you can simply wear it like a wristwatch and stay updated with constant information about your health, by pairing with your smartphone.
With these fitness trackers, you can get daily activity goals. Sync your fitness tracker to your phone and you can create a calendar and customise it with your daily regime, your calorie intake, your workouts and much more. With the help of latest apps you can get accurate, easy-to-read graphs and statistics that are made available in an easy-to-decipher format.
Some of the notable features of Fitness trackers
Bluetooth integration to help you sync your device with smartphone
Water resistant for everyday use
GPS tracking to keep track and analyse activity patterns
Sleep tracking to analyse length and quality of sleep
How does Fitness trackers work
Syncs to your smartphone via Bluetooth
Applications record your physical, social and leisure activities
Analyse and monitors the gathered data
Easy-to-read display gives you real-time feedback of your health
Allows you to set activity goals and check your progress
Key considerations while buying Fitness trackers
Easy-to-read display
Waterproof
GPS
OS compatibility
Long battery life
Bluetooth connectivity
Some would look just for step counting and reliable sleep tracking whereas others want GPS for running, advanced resting heart rate data etc.,With this context,presenting list of fitness trackers right from basic to advanced.If you've got any questions? Let me know in the comments section below.
Current Price : Rs.12,990.00 (Save – Rs.2,009)
Fitbit Charge 2 is the all new heart rate and fitness wristband built for all-day, workouts and beyond.Lets see some of its features/pros/cons.
Key Features :
Pure pulse continuous, automatic wrist-based heart rate tracking to better measure calorie burn all day

Maximize your workouts using simplified heart rate zones (Fat burn, cardio and peak)

See call, text and calendar notifications on the OLED display

Get a better understanding of your fitness level and see how you can improve over time with a personalized cardio fitness score

Track all day activity like steps, distance, calories burned, floors climbed and active minutes

Automatically track how long and how well you sleep and wake with a silent vibrating alarm

Use connected GPS during run mode to see real time stats like pace and distance on your wrist

Find moments of calm throughout your day with personalized guided breathing sessions based on your heart rate
Pros :
Swappable bands.
A multi-line OLED display that can show time and fitness data.
Always-on heart rate.
A great companion app.
Five-day battery life.
Cons:
Its not water-resistant for swims or showers.
Lacks GPS but can connect to your phone GPS.
Phone notifications on the Charge 2 display are limited and hard to read.
Current Price : Rs.17,451.82
Garmin's smart activity tracker with wrist-based heart rate plus GPS
Using heart rate monitor, vívosmart HR+ provides calories burned information. Whether you're going for a jog, playing a pick-up game with friends or trying out a new boot camp class, it quantifies the intensity of your fitness activities using intensity minutes.
Its able to track distance, time and pace for indoor or outdoor activities. With GPS, you can get even more accurate distance and pace stats as well as a map of your activity when running or walking outdoors. In addition to tracking your runs, steps and calories, vívosmart HR+ measures floors climbed and intensity minutes.
vívosmart HR+ automatically syncs with your smartphone throughout the day to save your stats to our free online community. Simply download Garmin Connect Mobile to your phone or log on to Garmin Connect via your desktop, where you can save, plan and share your activity and beat yesterday in your daily step count. Connect with other users to challenge and compete.
vívosmart HR+ can automatically tell the difference between movements like walking, running, biking, swimming and even using an elliptical. You can review all your daily activities on Garmin Connect.
 Key Features:
With GPS it can track distance and pace while mapping out your run or walk
Swim-friendly, sleek band is comfortable to wear all day, and the always-on touchscreen display shows your stats, even in sunlight
Measures steps, distance, calories, floors climbed, activity intensity and heart rate on your wrist¹
Receive full suite of smart notifications, which includes email, call, text, social media alerts and more — all from your wrist
Auto sync to Garmin Connect Mobile to join fitness challenges, review data and receive smart coaching
Pros :
Great activity monitoring
GPS for accurate run tracking
Top battery life and notifications
Cons :
Lacking sports other than running
Bit chunky for small wrists
Optical HR still imperfect
Current Price : Rs.3,999.00
GOQii is a comprehensive digital health and wellness solution with an ecosystem facilitating a permanent shift to healthier lifestyle. Motivation and guidance from experienced coaches and doctors combined with data from advanced wearable technology provides users with an engaged and sustainable experience. GOQii business model is they're practically listening to consumers everyday unlike any wearable brand where the contact ends after the sale has taken place.
GOQii Heart Care advanced activity tracker comes with heart rate monitor, step-distance-calorie counter, an integrated charger which can be plugged into any standard USB port. You also get features like call, SMS, WhatsApp notifications, auto sleep and Sports Mode for continuous heart rate monitoring.
Powered by your Heart Rate and activity data; the GOQii coach partners with you and gives you the tools and motivation to make the small changes in your life that lead to a big impact. GOQii coach help identify factors which cue your habits and also help suggest scientifically proven techniques to shift your habits for the better.
Key Features :
Tracks your Heart rate, daily steps, calories burned, distance covered, active hours & sleep pattern

Sports mode for continuous heart rate monitoring

Get Whatsapp, SMS, Email and Call notifications on a large OLED display

Separate charger is not required. USB integrated charger present on device. Connect the core to USB port of laptop, power bank or any mobile charger for charging

You get a personal coach, free doctor consultation and you can take diagnostic tests from comfort of your home through our partner lab

Up to 7 Days Battery Life; Connects wirelessly via Bluetooth to our free GOQii iOS (ver 8.0 and above) or Android app (ver 4.3 and above)
Pros:
Comprehensive digital health and wellness solution.This is unique solution & standout from all others.

Separate charger is not required.

Personal coach, free doctor consultation
Cons:
Few users have complained about inaccurate steps
Low battery life
Current Price : Rs.13,027.00 (Save – 1,972.00)

Track exercise and downtime automatically with this handy Fitbit Alta HR fitness wristband. Simply tap the bright OLED display on this tracker device to monitor your heart rate, number of daily steps and more.
Compatible with a range of fashionable bands, this Fitbit Alta HR fitness wristband adds functional style to your wardrobe.
Key Features :
Get the power of continuous heart rate in Fitbit's slimmest design yet all day, during workouts and beyond

With heart rate, you can better measure calorie burn and use zones fat burn, cardio and peak to find the right workout intensity for your goals

With sleep stages powered by pure pulse heart rate, automatically track your time spent in light, deep and rem sleep coming soon and take steps toward a better night's rest

See how working out more can improve your health by comparing your resting heart rate trends to your activity

Automatically track your steps, distance, calories burned and active minutes with battery life up to 7 days
Pros :
The Alta HR has a slim and stylish design with 7-day battery life, and all-day fitness and heart rate tracking.This is all-around fitness tracker suits for most people.
Cons:
It isn't water-resistant, and notifications can be difficult to read.
You can't manually start workouts.
Automatic exercise tracking and no buttons means no on-band controls.
Current Price : Rs.11,629.09
Smart Activity Tracker with Wrist-based Heart Rate and includes fitness monitoring tools
Key Features :
Smart activity tracker with wrist-based heart rate and fitness monitoring tools

While not in use, the discreet display disappears into the device so as not to overshadow your style

Measures VO2 max, which is widely recognized as an excellent measure

Stress monitoring enables users to see periods of elevated stress or restful recovery

New strength training activity will count sets, reps, and rest times and will push them to Garmin connect for review

In-Box Contents: Heart Rate Monitor, Charge Cable, Manual
Pros:
The Garmin Vivosmart 3 is slim, very comfortable to wear, has a built-in heart-rate monitor and is fully waterproof.
It's loaded with extra features, including stress-level measurements, VO2 Max readings, and a rep counter.
It shows notifications from your phone.
Cons:
Some of the features are a little difficult to access on the watch; the display isn't as sharp as some competing models' displays.
Like this post? Don't forget to share it!