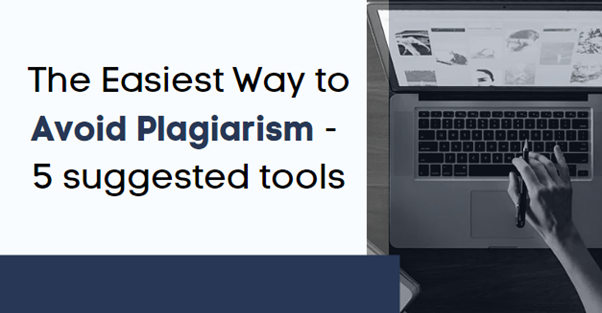 The Easiest Way to Avoid Plagiarism – 5 suggested tools
Anyone who has ever written a blog, worked as a freelancer, studied, or worked in marketing is fully aware of the impact of Plagiarism on the material. It has a detrimentally negative influence on the overall efficiency of the business. There is no recognition or appreciation for content that has been plagiarized.
It does not even allow your content to rank in search results. The authors must submit or publish unique and free of plagiarism or copying. This post will go through some of the most influential and easiest ways to avoid plagiarism in your writing.
What is plagiarism?
Plagiarism is defined as the act of taking someone else's idea and without giving them full credit. This is a more formal technique than using third-party resources to boost your work's reputation. Plagiarism may damage your reputation as a writer by reducing your target audience's trust in your work, in addition to being unethical and illegal.
Why should we avoid plagiarism when writing?
There are undoubtedly additional reasons why a writer should stay away from plagiarized content on the internet. Besides, plagiarism is theft and a criminal violation.
You need to understand that the fundamental objective of an article is to convey the writer's thoughts and ideas to the readers and that this fundamental concept or idea establishes a connection between the writer and the readers.
Due to plagiarism, the article's credibility is undermined, and as a result, the piece of writing fails to impress the readers. As a consequence, it is essential to ensure that everyone understands why avoiding plagiarism is crucial for academics and business professionals alike.
Nowadays, technical advancements have made it far simpler to identify duplicate material and to remove it inside an article. A plagiarism checker application may be used by the audience to determine the originality of the text.
One of the advantages of not plagiarizing is that the content will be ranked higher in search engines. If work is unique, you  have a greater opportunity of reaching the intended audience.
How can we prevent plagiarizing?
Because plagiarism is such a significant problem, numerous approaches have been developed to assist you to prevent and eliminate it in order to help you generate original and distinctive content. Here are a few easiest ways to avoid plagiarism, as you can avoid
Don't simply copy-paste
Unique in your own style
Citation and reference
Use quotation in content
Use online tools
Don't simply copy-paste
In your writing, you should discuss other people's ideas or findings (using references) and relate them to your argument instead of simply repeating what you read in other content. Use the copy and paste option sparingly when reading online content, as it encourages you to copy what you have read word for word. But don't simply copy-paste the content. You have to add interesting information and make it different from others.
Unique in your own style
Instead of just repeating the thoughts or phrases of the source, consider what you have to say about them. Examine your work and consider what viewpoint or argument you may bring to the table that is truly your own. You have to keep in mind that even if you are making a passing reference to a source's ideas or language in order to support your own argument.
The desire to reuse part of your earlier words when writing on the same subject for many tasks might be strong when writing on the same topic for several assignments. This is known as "self-plagiarism." You also avoid self-plagiarism in your writing by modifying the structure of content without changing the content itself.
Citation and reference
If you can't paraphrase your material, you may use citation and reference. Copywriters must also cite the source of any data used to support their works, whether assumptions or facts.
Using citations and references to defend yourself and your website against plagiarism charges may be quite useful. Include a reference list at the end of the piece to give readers all the information they need about the source material. This will direct the reader to the original source of information, eliminating copyright difficulties.
Use quotation in content
If you want to utilize a specific portion of another author's words in your own work, be sure to use quotation marks to indicate that it is a direct quote. Direct quotations should be used rarely, and they should not include vast quantities of material in their body.
It is recommended that you utilize them when identifying a crucial thought or indicating the location where you obtained the specific idea you are presenting in your paper. You must always give credit where credit is due when using someone else's ideas in your own work.
Use online tools
One of the best and easiest ways to avoid plagiarism is to use online tools that will help in detecting plagiarism and also aid in removing it. Here we are going to discuss tools that will be suggested to avoid plagiarism as:
Plagiarismchecker.ai offers a plagiarism checker with an AI content detector that helps writers, bloggers, and students detect and eliminate plagiarism with ease. The process of detecting plagiarism is incredibly straightforward. 
You need to follow the given steps to detect plagiarism:
Start by copying the text you need to verify and pasting it into the input text box.
You can also upload the file from your computer or any other device.
You can check the plagiarism of 25000 words at a time.
Select the language in which you want to check for plagiarism from the dropdown menu. It supports 25 languages other than English.
Finally, click on the Check Plagiarism button at the bottom to initiate the plagiarism detection process.
The tool has a user-friendly interface that saves you time.
The plagiarism report is straightforward that's easy to comprehend.
It provides a detailed plagiarism percentage and a list of sources for identified matches.
There is an option to download the plagiarism report in PDF.
The tool has a comprehensive database. It Includes extensive online documents, ebooks, journals, archives, and more.
ai guarantees the privacy and integrity of submitted work.
An advanced AI detector that can identify and distinguish between human and AI-generated content.
Plagiarsimchecker.ai is compatible with various file types including doc, Docx, pdf, txt, and others. This additional functionality increases the versatility of the tool, allowing users to easily upload and check documents in the formats they commonly use.
Editpad Plagiarism checker is an internet application that assists authors, bloggers, and webmasters in the process of identifying and eliminating Plagiarism. It is so simple to use for everyone. Take the steps outlined below:
Copy the text you want to use and paste it into the input area provided.
You can also attach a file to your message.
To upload a document from your computer's local storage, click on the Select File option.
If you wish to omit a certain URL from the list, click on the Exclude URL button and enter the URL into the input box that appears.
You may choose the language to check for plagiarism in any other language by selecting it from the drop-down menu.
To complete the plagiarism detection procedure, click on the Check Plagiarism button at the bottom of the page.
You may upload files to the system to check for plagiarism.
It supports doc, Docx, pdf, txt, and other file formats. The Editpad plagiarism checker also has a Chrome Extension. Editpad.org material is 100% safe and secure. After checking, Reports are available in HTML and PDF. To see the complete report, click Download Report.
3.   PlagScan.com
PlagScan is one of the most efficient plagiarism detection tools worldwide to avoid plagiarism. This plagiarism checker is safe and secure. The first 2,000 words are completely free. It is simple to use. There is no need to use a credit card for the free trial. PlagScan rounds up the top-three free plagiarism checkers with its inclusion.
Plagiarism detection program for both people and corporations that compares texts against web information, scientific publications, and the user's own papers, among other resources.
The plagiarism report is straightforward to comprehend.
PlagScan's plagiarism detector is simple to use from start to finish, and it saves you time.
It is possible to upload files directly from your computer, copy and paste your content, or upload a file through Dropbox or Google Drive, among other methods of submission.
It provides you with a plagiarism percentage, a list of sources, and a summary of your paper that indicates the plagiarised content in your document.
Check-plagiarism is the second most effective and highly recommended paraphrasing tool. In contrast to other article rewriters available on the internet, this one is completely free and offers far more customization options. In a single click, it removes all traces of plagiarism from the source content.
This free paraphrase tool is based on the basics of advanced AI systems. Adjusting sentence structure without changing meaning is what this application is designed to do. When you use the Rephrasing tool, you get fresh content since it acts as a word processor and sentence rephraser.
There are two unique ways of use for the check-Paraphrase Plagiarism. Follow these procedures to make use of this rephraser:
Text may be entered or pasted into the box.
Select "Paraphrase" from the drop-down menu.
Our clever paraphraser/Synonym Changer will scrutinize your material.
Your material will be rephrased by the paraphrase bot using the correct synonyms.
With its plagiarism checker, you can ensure that none of your work has been plagiarised.
This online paraphrase tool for professionals is more efficient and secure. Free and time-saving, this online tool for paraphrasing or changing words is available to you at all times. There is no need to register or sign up for an account.It distinguishes and optimizes your given content.
5.   ProWritingAid.com
Using ProWritingAid, you can verify that your material is unique by having it checked against a large number of online pages, academic papers, and published work. A plagiarism report may be generated either online or using an add-in for Microsoft Word or Excel.
This plagiarism checker is simple to use.
It aids in the process of self-editing.
A total of more than 20 in-depth writing reports are available from ProWritingAid.
You may use it in conjunction with Microsoft Word, Google Chrome, Google Docs, Gmail, and other applications.
Using ProWritingAid, you may retain complete control over your written expression.
This paraphrasing tool is highly encouraged to avoid plagiarism since it will produce original content by swapping terms that have similar meanings or by utilizing comparable sentence patterns.
The paraphrase tool may rephrase a document. It may be used for a variety of tasks, including the generation of blog entries, the development of original articles, and the creation of promotional content. It is feasible for freelance writers and specialists to generate plagiarism-free material by employing these paraphrasing services.
Your data is safe here means you can feel free while you are paraphrasing your content using this tool.
The paraphrase generator on this page is 100% free. No registration or credit card information is needed to use it.
This sentence rephraser not only helps you create distinctive material but also assists you in writing exact bits of information. When paraphrasing, it eliminates extraneous material and presents just the most pertinent paragraphs.
Once the paraphrase button is clicked, the artificial intelligence system rephrases the words and generates something entirely new.
You can produce a number of different content from the same material, which can help you improve your article writing abilities.
Conclusion
Consider that content for a website is essential to be free of plagiarism as a single plagiarised blog post or article may lead the entire website to be shut down. Plagiarism may also affect the ranking of your website on the search engine results page (SERP).
If you're a writer, plagiarising work may result in financial losses, legal troubles, and harm to your brand. You cannot use someone else's original work without citing them. Avoiding plagiarism is vital for keeping a healthy development of your writing profession.
So, being a professional, you have to create original and plagiarism-free content for blogging and to engage the audience. For those of you who are unable to write or who are having difficulty writing a unique piece, consider the above easiest way to avoid plagiarism, and the above-suggested tools will also help you in writing plagiarism-free content. As a consequence, utilize the above-mentioned strategies and tactics to simply develop unique and plagiarism-free content.
Summary
Article Name
The Easiest Way to Avoid Plagiarism - 5 suggested tools
Description
Consider that content for a website is essential to be free of plagiarism as a single plagiarised blog post or article may lead the entire website to be shut down.
Author
Publisher Name
Publisher Logo